Okay, so maybe not breaking news, but definitely news. The stone house (eastern half) and the stone barn existed in 1721 and probably built earlier.
Most of the historians that have looked at the White Horse Tavern, give a timeline of somewhere between 1711 and 1740 James Thomas built a log structure and started running the Tavern, then built the stone house next to the log cabin. In 1721 James applied for a tavern license, in 1715 he paid double the taxes of anyone in the township. In 1790, the "newer" part of the tavern was built to the west of the existing structure replacing the log structure–but this news does not reference a log cabin, but a stone house and stone barn.
During the process of saving the stone barn, it was obvious to me that the structure was older. The date of 1810 (or 1811) is carved into a stone in the bump-out added to the existing structure. In some of the plaster in the original structure, there is a date that looks like 1778 (at least 177?). However, that plaster is a coat over other layers. At that time, I was thinking the barn was constructed sometime after the first stone house, and before newer addition to the house–between 1740 to 1790.
I recently obtained an original copy of "Survey of Chester County Pennsylvania Architecture: 17th, 18th, and 19th centuries" by Margaret Schiffer. What a great book! In the descriptions of fireplaces, I found a reference to the stone house in 1721: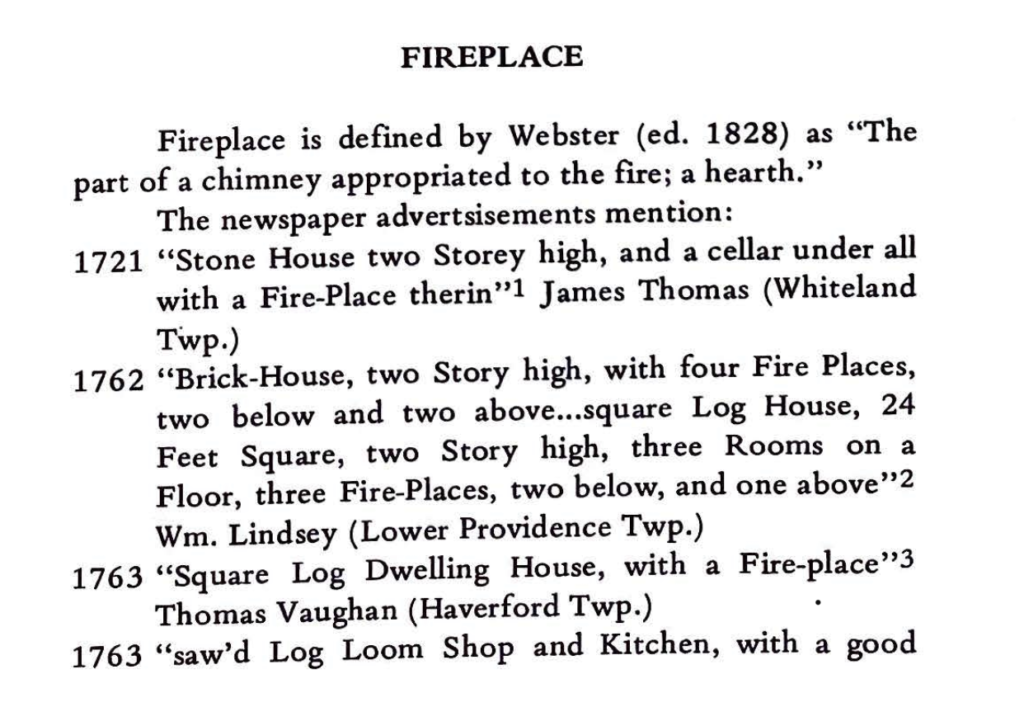 The reference is to the following classified ad: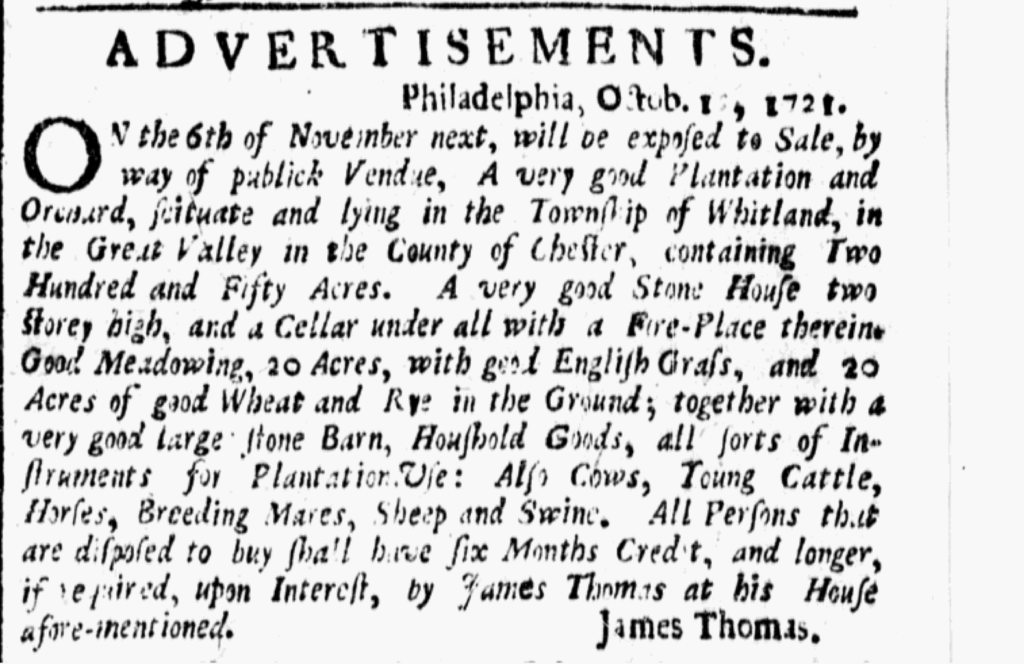 The ad lists a very good plantation and orchard situated and lying in the Township of Whiteland, in the Great Valley in the County of Chester. For sale on November 6 containing:
Two Hundred and Fifty Acres
Very good stone house two stories high
Cellar under all with Fire-Place
20 acres meadow with good English Grass
20 acres of wheat and rye
A very good large stone barn
All sorts of instruments for plantation
All cows, young cattle, horses, breeding mares, sheep, and swine
The last part of the ad says the property is the house of James Thomas.
So now I'm in search of other documents that may have the exact date James bought the property. We know the next year, 1722, the tavern license was renewed by Edward Kinnison.